There's a great new tablet in town and we're pretty excited about – it's the iPad Mini! It's lighter, smaller and easier to carry than a regular iPad, making the iPad Mini perfect for small hands. Of course, Pirate Scribblebeard's Treasure will be available on the iPad Mini at the same download price of $1.99 so iPad Mini owners will be able to join Oscar, Josephine, and their pirate friends on all sorts of imaginative doodling adventures!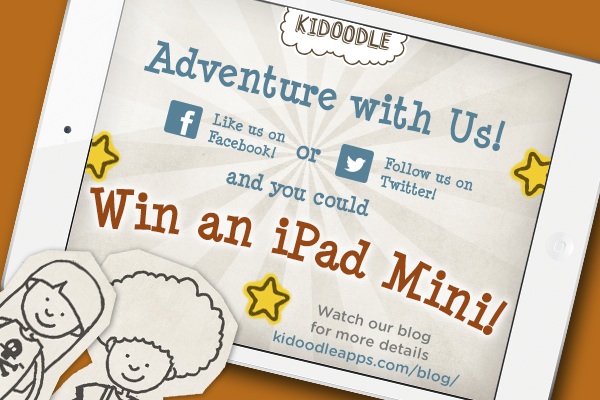 iMums Mini Madness!
To celebrate this amazing new iPad Mini and all the doodlers that will enjoy Pirate Scribbebeard's Treasure on it, we are excited to announce that we will be participating in The iMums Mini Madness event! Be sure to read all the details of the event on the iMums Mini Madness page and watch our blog, Facebook and Twitter for opportunities to enter the iPad Mini contest.
The Contest!
One person will win a brand new Apple iPad Mini 16GB WiFi and a whole bunch of awesome apps to boot! We are super excited to be sharing this contest with Curious Hat, Shoe The Goose and Budge Studios who all make great apps for kids.
How Can You Enter To Win?
Our iPad mini contest will run for 3 weeks starting Monday, December 3rd and ending on Monday, December 24th. You'll need to register with Raffelcopter on the iMums site first. Then you can earn a contest entry for various social media interactions such as liking our Facebook page, or following us on Twitter and Pinterest. Each action is an entry in the contest for you and the more actions you take, the more options that Raffelcopter will unlock for you!
Good luck as you sail the seas of adventure!