For our second "Meet a Real Live Artist" it leaves us breathless (more breathless than a captain's parrot who's eaten a whole box of saltines in one go) to introduce to you a dear friend of ours and an exceedingly talented English artist.
Josephine Hague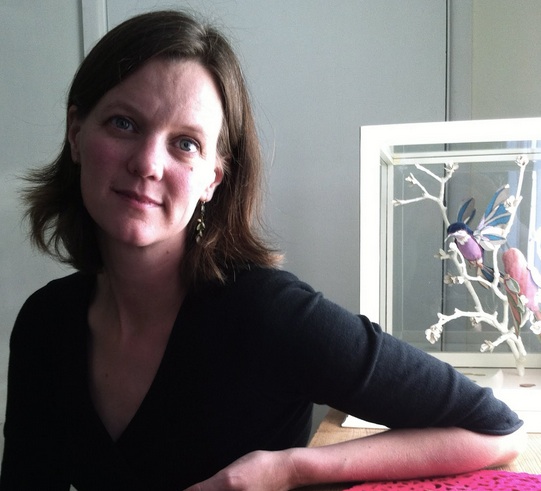 At one time Josephine worked in the model making department of Aardman Animations (that's right those Wallace & Grommit folks), but now she gets to spend her time frolicking in the trees with birds, as you'll see below:
1. Who are you and what do you do?
My name is Josephine Hague and I am an artist. I make decorative birds that I display in glass fronted box frames.  So far I have made hummingbirds, kingfishers, pheasants, penguins and a parrot. I sculpt them and collage a mix of vintage and Japanese fabrics over the whole bird and add silk trim, glass eyes and wire feet.
2. What was your favorite thing to draw as a kid?
My favourite thing to draw as a kid was people in scenes, usually at weddings or in parks or involved in a drama of some kind.
3. Why did you become an artist?
I became an artist because there was never really a time when I didn't think I would be one.
4. What is your favorite creative project that you have ever worked on?
My favourite creative project I have worked on other than what I do now would be making my  stop frame animation for my degree at college.  Also decorating the Christmas tree last night with my kids was a very enjoyable art project.
5. What would you say to a pirate who wanted to be an artist when they grew up?
I would say to a pirate that wanted to be an artist when they grow up, keep looking and drawing,  there is so much in the world to inspire you. Investigate the areas of art and creativity that you get a kick out of.  Don't be afraid to create something you think would be fun and exciting to do, believe in yourself.
Thanks so much Josephine, and check out more of Josephine's sculptures here.